Resources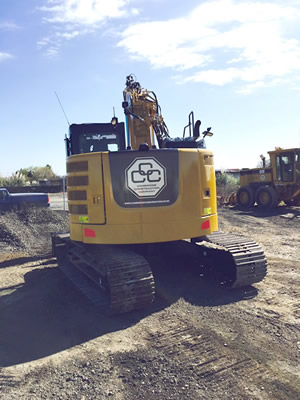 Cambridge Construction's Plant and Equipment:
The following resources will be available for the key components of the works.
EXCAVATOR - 20 tonne - Komatsu PC 200-6
EXCAVATOR - 16 tonne - Caterpillar 314ELCR (3D Machine Control)
EXCAVATOR - 13 tonne - Caterpillar 312C
EXCAVATOR - 6 tonne - Hyundai 55-9
MOTOR GRADER – 22 Tonne – 140KW -Caterpillar 12H VHP (3D Machine Control)
DOZER - 11 tonne – 85KW - Caterpillar D4H
ROLLER – 15 Tonne – Sakai TS150 – Pneumatic Tyred Roller
ROLLER - 15 tonne - Bomag BW213D4 - Single Drum Vibrating
ROLLER - 14 Tonne - Bomag BW213 D2– Single Drum Vibrating
ROLLER - 7 Tonne – Sakai SW70C - Twin Drum Vibrating
FRONT END LOADER – 10 Tonne – Caterpillar 924F with log forks
FRONT END LOADER – 5 Tonne – Komatsu WA65 with road sweeper and forks
FRONT END LOADER – 5 Tonne - JCB2CX -With Backhoe and forks
SKID STEER LOADER – Bobcat 763
ROAD TIP TRUCK – 6X4 Mack and 4 axle Transport Trailer
ROAD TIP TRUCK – 6x4 Hino with Roller spreader
ROAD TIP TRUCK – 4X2 Ford - 7 Tonne pay load
WATERCART – 10m3 Capacity
TRACTOR – 80HP with levelling bar and slasher mower
UTILITY VEHICLES – Setup with tools and equipment – X8
CONTRACTOR TRAILERS – X3
In addition to the above major items a full complement of minor construction equipment as required to complete a contract will be provided including: robotic and GPS survey equipment, lasers, pumps, steel plates, hand tools, light compaction equipment, concrete cutters and traffic management equipment.
We are proud of our plant and equipment which is maintained in excellent operational order and is very reliable.
This is an important factor in the efficiency of our contract performance.
Cambridge Construction has the Financial Standing and Intellectual Property necessary to complete contract works efficiently and successfully.